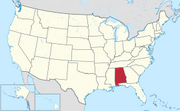 Alabama was a state located in the southeastern region of the United States. It was bordered by Tennessee to the north, Georgia to the east, Florida and the Gulf of Mexico to the south, and Mississippi to the west. At 2,100 km, Alabama had one of the longest navigable inland waterways in the United States. With an area of 135,765 km2, it was ranked as 30th in size.
Following Terra's World War II, Alabama experienced growth as the economy of the state transitioned from one primarily based on agriculture to one with diversified interests. The establishment or expansion of multiple United States Armed Forces installations added to the state economy and helped bridge the gap between an agricultural and industrial economy during the mid-20th century CE. The state economy in the 21st century CE was dependent on management, automotive, finance, manufacturing, aerospace, mineral extraction, healthcare, education, retail, and technology.
Alabama was nicknamed the Yellowhammer State. Alabama was also known as the "Heart of Dixie" and the Cotton State. The capital of Alabama was Montgomery. The oldest city is Mobile, founded in 1702 CE by French colonists.
Community content is available under
CC-BY-SA
unless otherwise noted.