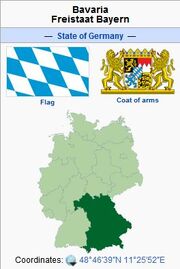 The
Free State of Bavaria
(
German
:
Freistaat Bayern
, pronounced
[ˈfʁaɪʃtaːt ˈbaɪ.ɐn
] (
[1]
listen
)), is a
state
of
Germany
, located in the southeast of Germany. With an area of 70,548 square kilometres (27,200 sq mi), it is the largest state by area, forming almost 20% of the total land area of Germany. Bavaria is Germany's second most populous state (after
North Rhine-Westphalia
), with 12.5 million inhabitants, more than any of the three sovereign nations on its borders. Bavaria's capital and largest city is
Munich
, the third largest city in Germany.
One of the oldest states of Europe, it was established as a duchy in the mid first millennium. In the 17th century, the Duke of Bavaria became a Prince-elector of the Holy Roman Empire of the German Nation. The Kingdom of Bavaria existed from 1806 to 1918, and Bavaria has since been a free state (republic). Modern Bavaria also includes parts of the historical regions of Franconia, Upper Palatinate and Swabia.
Community content is available under
CC-BY-SA
unless otherwise noted.