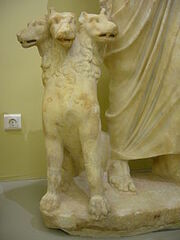 For the SII Battle Robot Series go to
Cerberus Robots
For the Kerberus Crabs of Green Hell follow this link.
This article is about the mythical dog.
Cerberus ( /ˈsɜrbərəs/),[1] or Kerberos, (Greek form: Κέρβερος, [ˈkerberos])[2] in Greek and Roman mythology, is a multi-headed hound (usually three-headed)[1][3][4] which guards the gates of the Underworld, to prevent those who have crossed the river Styx from ever escaping. Cerberus featured in many works of ancient Greek and Roman literature and in works of both ancient and modern art and architecture, although the depiction and background surrounding Cerberus often differed across various works by different authors of the era. The most notable difference is the number of its heads: Most sources describe or depict three heads; others show it with two or even just one; a smaller number of sources show a variable number, sometimes as many as 50 or even 100.
Community content is available under
CC-BY-SA
unless otherwise noted.