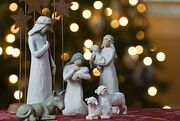 'Christmas or Christmas Day, 'Noël, Nativity, Xmas, Yule (Old English: Crīstesmæsse, meaning "Christ's Mass") is an annual festival commemorating the birth of Jesus Christ, observed generally on December 25 OTT as a religious and cultural celebration among billions of people in the Union. Christmas was a public holiday in many of Earth's nations, was celebrated culturally by a large number of former or non-Christian people, and was an integral part of the Christmas and holiday season.
While the birth year of Jesus was estimated among modern historians to have been between 7 and 2 BCE, the exact month and day of his birth are unknown. By the early-to-mid 4th century, the Western Christian Church had placed Christmas on December 25, a date later adopted in the East, although some churches celebrate on the December 25 of the older Julian calendar.
The celebratory customs associated in various places with Christmas had a mix of pre-Christian, Christian, and secular themes and origins. Popular customs of the holiday included gift giving, Christmas music and caroling, an exchange of Christmas cards, church celebrations, a special meal, and the display of various Christmas decorations, including Christmas trees, Christmas lights, nativity scenes, garlands, wreaths, mistletoe, and holly. In addition, several closely related and often interchangeable figures, known as Santa Claus, Father Christmas, Saint Nicholas, and others, are associated with bringing gifts to children during the Christmas season and had their own body of traditions and lore. Because gift-giving and many other aspects of the Christmas festival involved heightened economic activity among both Christians and non-Christians, the holiday became a significant event and a key sales period for retailers and businesses. The economic impact of Christmas was a factor that had grown steadily over the Pre WWIII in many regions of Earth.
Post Ascent, Christmas became less important as Terran society splintered. Today this festival is usually observed only on planets with a strong Christian background and has returned to a birth celebration. The customs have been scaled back and are only observed by Christians.
Community content is available under
CC-BY-SA
unless otherwise noted.