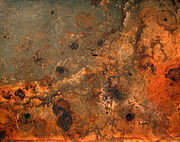 Corrosion
is the gradual destruction of materials (usually
metals
) by chemical reaction with their
environment
.
In the most common use of the word, this means electrochemical oxidation of metals in reaction with an oxidant such as oxygen. Rusting, the formation of iron oxides, is a well-known example of electrochemical corrosion. This type of damage typically produces oxides or salts of the original metal. Corrosion can also occur in materials other than metals, such as ceramics or polymers, although in this context, the term degradation is more common. Corrosion degrades the useful properties of materials and structures including strength, appearance and permeability to liquids and gases.
Many structural alloys corrode merely from exposure to moisture in air, but the process can be strongly affected by exposure to certain substances. Corrosion can be concentrated locally to form a pit or crack, or it can extend across a wide area more or less uniformly corroding the surface. Because corrosion is a diffusion-controlled process, it occurs on exposed surfaces. As a result, methods to reduce the activity of the exposed surface, such as passivation and chromate conversion, can increase a material's corrosion resistance. However, some corrosion mechanisms are less visible and less predictable.
Galvanic corrosion occurs when two different metals have physical or electrical contact with each other and are immersed in a common electrolyte, or when the same metal is exposed to electrolyte with different concentrations. Galvanic corrosion is of major interest to the marine industry and also anywhere water (containing salts) contacts pipes or metal structures. Galvanic corrosion is often prevented by the use of sacrificial anodes.
Often it is possible to chemically remove the products of corrosion. For example phosphoric acid in the form of naval jelly is often applied to ferrous tools or surfaces to remove rust. Corrosion removal should not be confused with electropolishing, which removes some layers of the underlying metal to make a smooth surface. For example, phosphoric acid may also be used to electropolish copper but it does this by removing copper, not the products of copper corrosion.
Community content is available under
CC-BY-SA
unless otherwise noted.