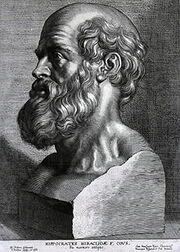 Hippocrates of Cos
or
Hippokrates of Kos
(
Greek
: Ἱπποκράτης; Hippokrátēs; c. 460 BC – c. 370 BC) was an
ancient
Greek
physician
of the
Age of Pericles
(Classical
Greece
), and is considered one of the most outstanding figures in the
history of medicine
. He is referred to as the
father of western medicine
[2]
[3]
[4]
in recognition of his lasting contributions to the field as the founder of the
Hippocratic School of Medicine
. This intellectual school revolutionized
medicine in ancient Greece
, establishing it as a discipline distinct from other fields that it had traditionally been associated with (notably
theurgy
and
philosophy
), thus establishing medicine as a profession.
[5]
[6]
However, the achievements of the writers of the Corpus, the practitioners of Hippocratic medicine, and the actions of Hippocrates himself are often commingled; thus very little is known about what Hippocrates actually thought, wrote, and did. Hippocrates is commonly portrayed as the paragon of the ancient physician, credited with coining the Hippocratic Oath, still relevant and in use today. He is also credited with greatly advancing the systematic study of clinical medicine, summing up the medical knowledge of previous schools, and prescribing practices for physicians through the Hippocratic Corpus and other works
The Hippocratic Oath, a seminal document on the ethics of medical practice, was attributed to Hippocrates in antiquity although new information shows it may have been written after his death. This is probably the most famous document of the Hippocratic Corpus. Recently the authenticity of the document's author has come under scrutiny. While the Oath is rarely used in its original form today, it serves as a foundation for other, similar oaths and laws that define good medical practice and morals. Such derivatives are regularly taken today by medical graduates about to enter medical practice
Community content is available under
CC-BY-SA
unless otherwise noted.