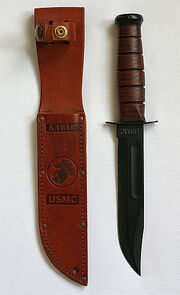 KA-BAR
(trademarked as
KA-BAR
, capitalized) is the contemporary popular name for the
combat knife
first adopted by the
United States Marine Corps
in November 1942 as the
1219C2 Combat Knife
(later designated the
USMC Mark 2 Combat Knife
or
Knife, Fighting Utility
), and subsequently adopted by the
United States Navy
as the
U.S. Navy Utility Knife, Mark 2
.
[1]
[2]
[3]
Additionally, KA-BAR is the trademark and namesake of a related knife manufacturing company, KA-BAR Cutlery Co., Inc. (formerly Union Cutlery Co.) of
Olean, New York
, a subsidiary of the
Cutco Corporation
.
Although KA-BAR Cutlery, Inc. currently makes a wide variety of knives and cutlery, it is best known for the KA-BAR Fighting Utility Knife, which has traditionally used a 7 in. (178 mm) 1095 carbon steel clip point blade and leather-washer handle. Other, more modern versions of this knife feature single or dual-edge blades and synthetic handles made of Kraton (a non-slip rubber substitute).[4]
Community content is available under
CC-BY-SA
unless otherwise noted.