New York City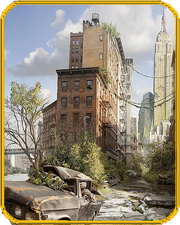 Large City on Terra, North American Region.

Once it was one of the largest metropolitan cities on planet Earth, it has lost almost all of its population and population dropped from about 9 Million to less than 600,000 and areas like Manhattan, Bronx and Brooklyn crumbled to a virtual ghost town with overgrowing ruins and abandoned buildings. Great efforts to rebuild and restore the city to Pre Astro Conditions were undertaken in 3300 after New York City native Rex Schwartz returned for a visit and donated 50 Billion Credits and founded the NYC Foundation. Today New York City is a vibrant Terran City with about 2 Million Inhabitants and it became once again a center of fashion and art. The Mega Corporation DeNoir located its headquarters there and Terran New York Fashions and designs are on the forefront thru ought the Union. It is here where the famous Terran Sunglasses are still manufactured following strict ancient industrial processes. (The Rex Schwartz RayB Sunglass Model sells for over 8000 credits and is despite its steep price the most popular model) It is a famous Tourist attraction for Union Citizens from all over the Galaxy and usually the first place they visit. Popular attractions are a genuine gasoline powered Car ride, Subway mugging enactments and visiting a Fashion Show. New York City was the site for the then secret and now famous battle of Peter Baker and his friends against Xunx Monsters in 2016 and the old AXIOM Headquarters (now a tourist attraction and museum) For the more Pre Astro Information on New York City follow this Link. See also Fleet Carrier USS New York
Community content is available under
CC-BY-SA
unless otherwise noted.