(Terran Pre Astro History)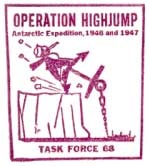 Operation Highjump (Wikipedia) (OpHjp), officially titled The United States Navy Antarctic Developments Program, 1946-1947, was a United States Navy operation organized by RADM Richard E. Byrd Jr. USN, (Ret), Officer in Charge, Task Force 68, and led by RADM Richard H. Cruzen, USN, Commanding Officer, Task Force 68. Operation Highjump commenced 26 August 1946 and ended in late February 1947. Task Force 68 included 4,700 men, 13 ships, and multiple aircraft. The primary mission of Operation Highjump was to establish the Antarctic research base Little America IV.[1][2]
Highjump's objectives, according to the US Navy report of the operation[citation needed], were:
training personnel and testing equipment in frigid conditions;
consolidating and extending United States sovereignty over the largest practicable area of the Antarctic continent (This was publicly denied as a goal even before the expedition ended);
determining the feasibility of establishing, maintaining and utilising bases in the Antarctic and investigating possible base sites;
developing techniques for establishing, maintaining and utilising air bases on ice, with particular attention to later applicability of such techniques to operations in interior Greenland, where conditions are comparable to those in the Antarctic;
amplifying existing stores of knowledge of hydrographic, geographic, geological, meteorological and electro-magnetic propagation conditions in the area;
Community content is available under
CC-BY-SA
unless otherwise noted.