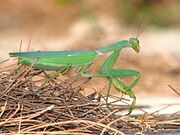 Mantodea
(or
mantises
) is an suborder of
insects
that contains
approximately 2,300 described species and about 430 genera
[1]
in 15 families
[2]
worldwide in
temperate
and
tropical
habitats. Most of the species are in the family
Mantidae
. Historically, the term
mantid
was used to refer to any member of the order because for most of the past century, only one family was recognized within the order; technically, however, the term only refers to this one family, meaning the species in the other 14 recently established families are not mantids, by definition (i.e., they are
empusids
, or
hymenopodids
, etc.), and the term "mantises" should be used when referring to the entire order.
A colloquial name for the order in the United States is "praying mantises", because of the typical "prayer-like" stance, although the eggcorn "preying mantis" is sometimes used since mantises are predatory.[3] In Europe and other regions, however, the name "praying mantis" refers to only a single species, Mantis religiosa. The closest relatives of mantises are the orders Isoptera (termites) and Blattodea (cockroaches), and these three groups together are sometimes ranked as an order rather than a superorder. They are sometimes confused with phasmids (stick/leaf insects) and other elongated insects such as grasshoppers and crickets.
Community content is available under
CC-BY-SA
unless otherwise noted.