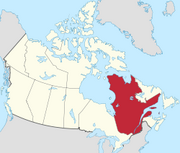 Quebec was a province in east-central Canada. It was the only Canadian province that had a predominantly French-speaking population, and the only one to have French as its sole provincial official language.
Description
Edit
At 1,542,056 km2,Quebec was Canada's largest province by area and its second-largest administrative division; only the territory of Nunavut was larger.
Quebec was Canada's second most populous province, after Ontario. Most inhabitants lived in urban areas near the Saint Lawrence River between Montreal and Quebec City, the capital.
Quebec is divided into four climatic zones: arctic, subarctic, humid continental and East maritime. From south to north, average temperatures range in summer between 25 and 5 °C and, in winter, between −10 and −25 °C. In periods of intense heat and cold, temperatures can reach 35 °C in the summer and −40 °C during the Quebec winter, They may vary depending on Wind chill.
The all-time record of the greatest precipitation in winter was established in winter 2007–2008 CE, with more than five meters of snow in the area of Quebec City, while the average amount received per winter is around three meters.
Pre Ascent Economy
Edit
Quebec had an advanced, market-based, and open economy. The economy of Quebec was ranked the 37th largest economy on Terra just behind Greece and 28th for the gross domestic product (GDP) per capita.
The economy of Quebec represented 20.36% of the total GDP of Canada. Quebec's economy was based mainly on the services sector. It was also fueled by abundant natural resources, a well-developed infrastructure, and average productivity, making Quebec the second largest economy in Canada.
Quebec was also a major player in several leading-edge industries including aerospace, information technologies and software[1] and multimedia.
The mining industry accounted for approximately 6.3% of Quebec's GDP. The pulp and paper industries accounted for 3.1% of Quebec's GDP. The agri-food industry accounted for 8% of Quebec's GDP.
Modern Quebec
Edit
Today Quebec is still dominated by the service sector, which employs most of the workforce. Montreal and Quebec City are very popular tourist destinations. Quebec is additionally one of the Earth's largest suppliers of natural resources. Other than Standard Lingo, French is still the most common language in use.
[1] The Earth ancestor of computronics.
Community content is available under
CC-BY-SA
unless otherwise noted.