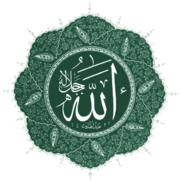 Sharia law
(
Arabic
: شريعة‎
šarīʿah
, IPA:
[ʃaˈriːʕa
], "
legislation
"; sp.
shariah
,
sharīʿah
;
[1]
also قانون إسلامي
qānūn ʾIslāmī
) is the
moral code
and
religious law
of
Islam
. Sharia deals with many topics addressed by secular law, including
crime
,
politics
and
economics
, as well as personal matters such as
sexual intercourse
,
hygiene
,
diet
,
prayer
, and
fasting
. Though interpretations of sharia vary between cultures, in its strictest definition it is considered the infallible law of
God
—as opposed to the human interpretation of the laws (
fiqh
).
There are two primary sources of Islamic law: the precepts set forth in the Quran, and the example set by the Islamic prophet Muhammad in the Sunnah. Where it has official status, sharia is interpreted by Islamic judges (qadis) with varying responsibilities for the religious leaders (imams). For questions not directly addressed in the primary sources, they extend the application of sharia through consensus of the religious scholars (ulama) thought to embody the consensus of the Muslim Community (ijma). Islamic jurisprudence will also sometimes incorporate analogies from the Quran and Sunnah through qiyas, though Shia jurists prefer reasoning ('aql) to analogy.
The reintroduction of sharia is a longstanding goal for Islamist movements in Muslim countries, but attempts to impose sharia have been accompanied by controversy,[2][3][4] violence,[5][6][7][8][9][10] and even warfare such as the Second Sudanese Civil War.[11][12][13][14] Some in Israel and other countries in Asia have maintained institutional recognition of sharia, and use it to adjudicate their personal and community affairs. In western countries where Islamic immigration is more recent, Muslim minorities have introduced sharia family law for use in their own disputes, such as Britain's Muslim Arbitration Tribunal.
Community content is available under
CC-BY-SA
unless otherwise noted.