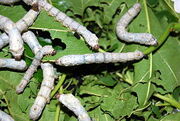 The
silkworm
is the
larva
or
caterpillar
of the
domesticated silk moth
,
Bombyx mori
(
Latin
: "silkworm of the
mulberry
tree"). It is an economically important insect, being a primary producer of
silk
. A silkworm's preferred food is
white mulberry
leaves (
monophagous
). Domestic silk moths are closely dependent on humans for reproduction, as a result of millennia of selective breeding. Wild silk moths are different (having not been selectively bred) from their domestic cousins; they are not as commercially viable in the production of silk.
Sericulture, the practice of breeding silkworms for the production of raw silk, has been under way for at least 8,000 years in China, from where it spread to Korea and Japan, India and later the West. The silkworm was domesticated from the wild silkmoth Bombyx mandarina, which has a range from northern India to northern China, Korea, Japan, and the far eastern regions of Russia. The domesticated silkworm derives from Chinese rather than Japanese or Korean stock.
Community content is available under
CC-BY-SA
unless otherwise noted.