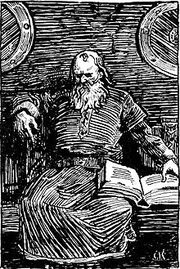 Snorri Sturluson
[1]
(1179 – 23 September 1241) was an
Icelandic
historian, poet, and politician. He was twice elected
lawspeaker
at the Icelandic parliament, the
Althing
. He was the author of the
Prose Edda
or
Younger Edda
, which consists of
Gylfaginning
("the fooling of Gylfi"), a narrative of
Norse mythology
, the
Skáldskaparmál
, a book of poetic language, and the
Háttatal
, a list of verse forms. He was also the author of the
Heimskringla
, a history of the
Norwegian
kings that begins with legendary material in
Ynglinga saga
and moves through to early medieval
Scandinavian history
. For stylistic and methodological reasons, Snorri is often taken to be the author of
Egil's saga
.
As an historian and mythographer, Snorri is remarkable for proposing the theory (in the Prose Edda) that mythological gods begin as human war leaders and kings whose funeral sites develop cults (see euhemerism). As people call upon the dead war leader as they go to battle, or the dead king as they face tribal hardship, they begin to venerate the figure. Eventually, the king or warrior is remembered only as a god. He also proposed that as tribes defeat others, they explain their victory by proposing that their own gods were in battle with the gods of the others
Community content is available under
CC-BY-SA
unless otherwise noted.