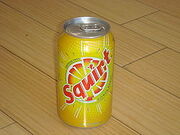 What I drink:
Squirt was created by Herb Bishop in 1938, after experimenting with a similar citrus drink, Citrus Club. He created a new, carbonated drink which required both less fruit juice and less sugar. Bishop declared that it was the "freshest, most exciting taste in the marketplace".[1]
Other sources[citation needed]
claim that Squirt was created by Peter Hodde. This claim is validated by referencing the "Hodde Brothers" inscription on antique Squirt bottles.
The product received its name because the drink was claimed to "squirt" into one's mouth like a freshly squeezed grapefruit.[1]
In 1941, a mascot named "Lil' Squirt" was introduced to the product line's marketing to personify the brand. The mascot proved useful in broadening public awareness of the product. Squirt became a popular soft drink in many parts of the country. In addition to being a well-liked soft drink, Squirt later established itself as a mixer in the 1950s.
Ownership of the Squirt brand has changed hands several times. It is currently property of Dr Pepper Snapple Group.[1]
Community content is available under
CC-BY-SA
unless otherwise noted.