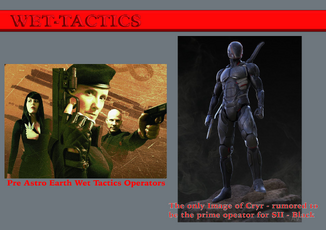 Wet Tactics
or
Wetwork
are a
euphemism
for
murder
or
assassination
, alluding to spilling blood. The expression "wet work", as well as the similar "
wet job
", "
wet affair
", or "
wet operation
", are all
calques
of the euphemism used by the
KGB
for such activities,
mokroye delo
(wet dealings). These operations are reputed to have been handled at the KGB by Spetsbureau 13, colorfully known as the "Department of wet affairs" (
Otdel mokrykh del
).
The Russian expression "wet job" (мокрое дело) can be traced to at least the 19th century from Russian criminal slang (fenya, muzyka) and originally meant robbery that involved murder, i.e., spilling blood.
It is rumored that SII has a department that habitually performs wet tactics to either gain an technological advantage over their competitors or to prevent them from acquiring that type of advantage.
Community content is available under
CC-BY-SA
unless otherwise noted.