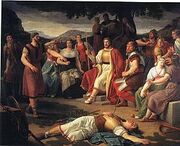 In
Old Norse
, áss (or ǫ́ss, ás, plural æsir; feminine ásynja, plural ásynjur) is the term denoting a member of the principal pantheon in the indigenous Germanic religion known as Norse paganism. This pantheon includes
Odin
,
Frigg
,
Thor
,
Baldr
and
Týr
. The second pantheon comprises the
Vanir
. In Norse mythology, the two pantheons wage the Æsir-Vanir War, which results in a unified pantheon.
The cognate term in Old English is ōs (plural ēse) denoting a deity in Anglo-Saxon paganism. The Old High German is ans, plural ensî. The Gothic language had ans- (based only on Jordanes who glossed anses with uncertain meaning, possibly 'demi-god' and presumably a Latinized form of actual plural *anseis). The reconstructed Proto-Germanic form is *ansuz (plural *ansiwiz). The a-rune ᚫ was named after the æsir.
Unlike the Old English word god (and Old Norse goð), the term ōs (áss) was never adopted into Christian use and survived only in a secularized meaning of "pole, beam, stave, hill" or "yoke".
Community content is available under
CC-BY-SA
unless otherwise noted.