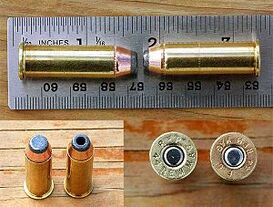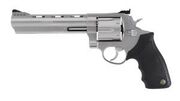 The
.44 Remington Magnum
, or simply
.44 Magnum
, is a large-bore
cartridge
originally designed for
revolvers
. After introduction, it was quickly adopted for
carbines
and
rifles
. Despite the ".44" designation, all guns chambered for the .44 Magnum case, and its parent case, the
.44 Special
, use bullets of approximately 0.429 in (10.9 mm) diameter.
[3]
The .44 Magnum is based on a lengthened
.44 Special
case, loaded to higher pressures for greater velocity (and thus, energy). The .44 Magnum has since been eclipsed in power by the
.454 Casull
, among others; nevertheless, it has remained one of the most popular commercial large-bore magnum cartridges.
[4]
[5]
When loaded to its maximum and with heavy, deeply penetrating bullets, the .44 Magnum cartridge is suitable for short-range hunting of all North American game—though at the cost of much
recoil
and
muzzle flash
when fired in handguns. In carbines and rifles, these are non-issues.
[6]
Community content is available under
CC-BY-SA
unless otherwise noted.