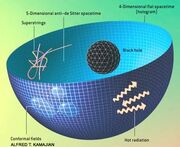 Series: Space Travel Physics of Galactic Chronicles
Anti de Sitter space
Edit
In mathematics and physics, n-dimensional anti de Sitter space, sometimes written , is a maximally symmetric Lorentzian manifold with constant negative scalar curvature. It is the Lorentzian analogue of n-dimensional hyperbolic space, just as Minkowski space and de Sitter space are the analogues of Euclidean and elliptical spaces respectively.
It is best known for its role in the AdS/CFT correspondence.
In the language of general relativity, anti de Sitter space is a maximally symmetric, vacuum solution of Einstein's field equation with a negative (attractive) cosmological constant (corresponding to a negative vacuum energy density and positive pressure).
In mathematics, anti de Sitter space is sometimes defined more generally as a space of arbitrary signature (p,q). Generally in physics only the case of one timelike dimension is relevant. Because of differing sign conventions, this may correspond to a signature of either (n−1, 1) or (1, n−1).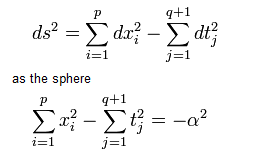 More on De Sitter Space here:
Community content is available under
CC-BY-SA
unless otherwise noted.