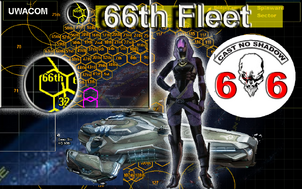 66th Fleet
UPWACOM - Upward Sector
"Cast No Shadow"
Headquarters located on the only planet in tbe Deep Six System (Deep Six HQ )
The 66th is a number fleet by designation  only. It consists of only one Battlegroup . 
There are only 200 Battleships assigned to the 66th.
The majority of the 66th fleet conists of Special mission Frigates , Cruisers and super-cruisers .
Main missions of the 66th are special warfare and tactics. It also maintains the Special Mission School , where hand selected individuals receive special training.
Graduates often transfer to NAVINT - X Fleet .
The 66th is not a NAVINT division, but works very closely with NAVINT and other Intel and Counter Intelligence agencies and divisions of the Union.
Commandant of the 66th is Admiral Mick Bird . It is classified if this is an actual name or a code designation.
(Shown is a female officer of the 66th and a Special Mission Cruiser ( USS Banshee )
Missions include operative insertion, extraction, demolition etc. 
Community content is available under
CC-BY-SA
unless otherwise noted.