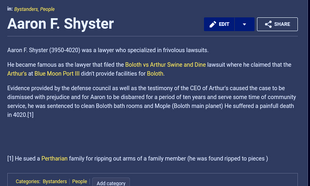 Aaron F. Shyster (3950-4020) was a lawyer who specialized in frivolous lawsuits.
He became famous as the lawyer that filed the Boloth vs Arthur Swine and Dine lawsuit where he claimed that the Arthur's at Blue Moon Port III didn't provide facilities for Boloth.
Evidence provided by the defense council as well as the testimony of the CEO of Arthur's caused the case to be dismissed with prejudice and for Aaron to be disbarred for a period of ten years and serve some time of community service, he was sentenced to clean Boloth bath rooms and Mople (Boloth main planet) He suffered a painfull death in 4020.[1]
[1] He sued a Pertharian family for ripping out arms of a family member (he was found ripped to pieces )
Community content is available under
CC-BY-SA
unless otherwise noted.