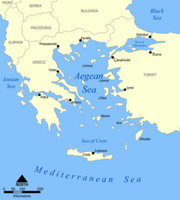 The Aegean Sea is an elongated embayment of the Mediterranean Sea located between the Greek and Anatolian peninsulas, i.e., between the mainlands of Greece and Turkey.
Geography
Edit
In the north, it is connected to the Marmara Sea and Black Sea by the Dardanelles and Bosporus. The Aegean Islands are within the sea and some bound it on its southern periphery, including Crete and Rhodes.
The sea was traditionally known as Archipelago, but in English this word's meaning has changed to refer to the Aegean Islands and, generally, to any island group.The Aegean Sea covers about 214,000 square kilometers in area, and measures about 610 kilometers longitudinally and 300 kilometers latitudinally. The sea's maximum depth is 3,543 metres, east of Crete. The Aegean Islands are found within its waters, with the following islands delimiting the sea on the south (generally from west to east): Kythera, Antikythera, Crete, Kasos, Karpathos and Rhodes.
Community content is available under
CC-BY-SA
unless otherwise noted.