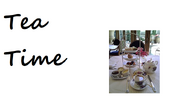 Tea in reference to food, rather than the drink) has long been used as an umbrella term for several different meals. Isabella Beeton, whose books on Home economics were widely read in the 19th century, describes afternoon teas of various kinds, and provides menus for the old-fashioned tea, the at-home tea, the family tea and the high tea.Teatime is the time at which the tea meal is usually eaten, which is late afternoon to early evening, being the equivalent of merienda. Tea as a meal is associated with Great Britain , Ireland , and some Commonwealth countries.
Community content is available under
CC-BY-SA
unless otherwise noted.