Air Dried Squid - SnackfoodEdit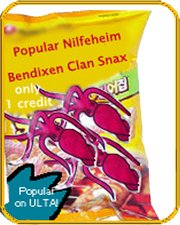 Air Dried Squid, lightly salted and shredded is one of the most popular snack foods on Nilfeheim. It is one of the few food products that are imported.
Eric Olafson talks about such Snack food while he waits at Arsenal Gate. (GC Book VI)
Other Nilfeheim snacks are pickles, pickled fish, pickled sea weed buds and pickled dumplings. Brunar Bendixen of the Bendixen Clan was the first to mass produce such Snacks and sell them both locally and export them.
The Bendixen Clan is now incorporated into the Olafson Clan.
Elena Olafson who manages the Clan expanded on that and this earns quite some revenue for the Olafson Clan.
Community content is available under
CC-BY-SA
unless otherwise noted.