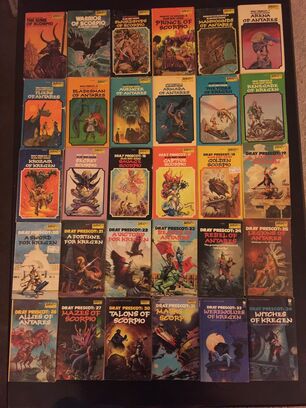 Dray Prescot series (written as Alan Burt Akers and
Dray Prescot
)

Henry Kenneth Bulmer (14 January 1921 – 16 December 2005) was a British author, primarily of science fiction.
Consists of eleven cycles (the last is unfinished), four stand-alone novels, and three stand-alone short stories as noted below. The first thirty-seven volumes were published by DAW Books from December 1972 – April 1988; print editions of the later volumes were initially published solely in German translation by Wilhelm Heyne Verlag from 1991–1998. English language ebooks of volumes 38–41 were later issued by the now-defunct electronic publisher Savanti from September 1995 – December 1998; ebooks of volumes 1–52 have since been issued by another electronic publisher, Mushroom eBooks. Publication was interrupted for close to six years between volumes 45 and 46 due to family illness and difficulty in locating the manuscripts.[3] As of 5 February 2014 it was reported that all the missing manuscripts had been found except that for Demons of Antares (Book 46), which was being translated back into English from the German version, a process then "almost finished."[4] Publication of the volume followed in June 2014, with the remaining volumes appearing at intervals during the remainder of the year. Volume 52 was published in November 2014. Bladud Books, a sister imprint of Mushroom eBooks, has published collected omnibus editions of all volumes through the Balintol cycle in paperback and hardback.[5]
Community content is available under
CC-BY-SA
unless otherwise noted.