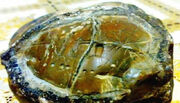 What's more extraordinary is that the rocks are engraved with a star map, very similar to the plaque that was designed by Carl Sagan and Frank Drake, and was placed on-board the Pioneer 10 probe, launched in 1972. The rocks also have a magnetic field, which seems to emanate from the rocks when they are near any electric or electronic apparatus, Did an Extraterrestrial explorer leave a calling card behind?
Community content is available under
CC-BY-SA
unless otherwise noted.