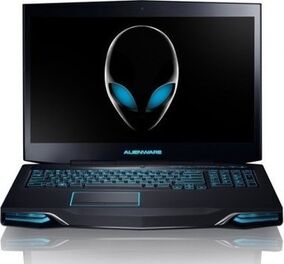 Alienware is a
United States
computer hardware subsidiary of Dell, Inc.Their hardware has a distinctive "sci-fi" style, typically including decorative lighting. Alienware was founded in 1996 by Nelson Gonzalez and Alex Aguila.
Established in 1996 by Nelson Gonzalez and Alex Aguila, Alienware assembles desktops, notebooks, and workstations. According to employees, the Alienware name was chosen because of the founders' fondness for the hit television series
The X-Files
, hence the theme to their products, with names such as
Area-51
,
Hangar 18
and
Aurora
.
Initially, Dell maintained its competing XPS line of gaming PCs, often selling computers with the same specifications. The XPS line may have hurt Alienware's market share within its market segment.[citation needed] Due to corporate restructuring in the spring of 2008, the XPS brand was scaled down, and the Desktop line was eliminated leaving only the XPS Notebooks. Product development of gaming PCs was consolidated with Dell's gaming division, with Alienware becoming Dell's premier gaming brand.
On June 2, 2009, The M17x was introduced as the First Alienware/Dell branded system. Alienware now represents the premium performance space in Dell's consumer family of products.[8] This launch also expands Alienware's global reach from six to 45 countries.
Wiki Page - Alienware
Community content is available under
CC-BY-SA
unless otherwise noted.