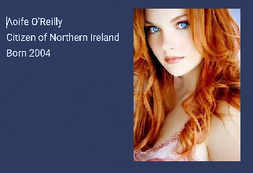 Aoife O'Reilly
Citizen of
Northern Ireland
Born
2004
Daughter of Catholic parents, father involved in the IRA
Was abducted by
Freons
and rescued by
Sarans
.
Aoife is a gifted dancer
She is a
Telekinet
.
She is part of the groups that goes to the
Old World
.

The thirty abducted Teens:
Sigurd Olafson, Norway * Melissa Rockford, USA *  Mahmud Ben Alif, Iraq* Aoife O'Reilly, Ireland * Aaron Stein, USA *Buwunti, Congo * Wolfgang, Germany * Ling Bao, China * Manjieet, India * Sergej, Russia * Yoko Askai, Japan * Sarah Guri, Israel * Sofia Pace,Italy * Pierre-Luc Chevalier, France* James Gillis, England * Edward McArthur, Scotland * Sylvi, Lithuania * Janosh, Hungary * Andrei, Poland * Lom Monte Negro * Margit Oats, South Africa * Geng Kublai, Mongolia * Paulo Benedicto, Brazil *Alice Gordon, Australia  *Wilfredo Lopez, Mexico * Conzuela Garcia, Spain * Rosa Pererro,  Argentina * Maria Alvarez, Venezuela * Ninuk Nama,  Alaska * Salima Malmami, Afghanistan
Community content is available under
CC-BY-SA
unless otherwise noted.