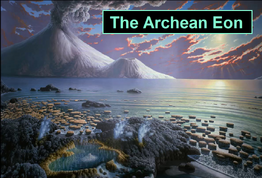 The Archean Eon 
( /ɑːrˈkiːən/, also spelled Archaean or Archæan) is one of the four geologic eons of Earth history, occurring 4,000 to 2,500 million years ago (4 to 2.5 billion years ago). During the Archean, the Earth's crust had cooled enough to allow the formation of continents and life started to form.
Archean (or Archaean) comes from the ancient Greek Αρχή (Arkhē), meaning "beginning, origin". Its earliest use is from 1872, when it meant "of the earliest geological age." Before the Hadean Eon was recognized, the Archean spanned Earth's early history from its formation about 4,540 million years ago until 2,500 million years ago.
Instead of being based on stratigraphy, the beginning and end of the Archean Eon are defined chronometrically. The eon's lower boundary or starting point of 4 Gya (4 billion years ago) is officially recognized by the International Commission on Stratigraphy.
Contradicting past knowledge, Earth supported several thriving civilization at this time. Seeded by advanced civilizations with different agendas.
This seeding is the core reason for the Human Mystery.
Community content is available under
CC-BY-SA
unless otherwise noted.