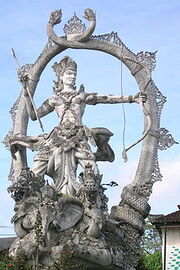 Arjuna
(
Devanagari
: अर्जुन,
Thai
: อรชุน
Orachun
,
Tamil
: அருச்சுனன்
Aruccunan
,
Indonesian
and
Javanese
: Harjuna, Harjuno, Herjuno,
Malay
: Ranjuna; pronounced
[ɐrˈɟunɐ
] in classical
Sanskrit
(lit.
bright' or 'silver
(cf. Latin
argentum
)
[1]
, also
Phalguna
(lit.
one born on the star of Phalguna
[2]
),
Dhananjaya
(lit.
one who conquers riches
[3]
),
Partha
(lit.
son of Pratha or Kunti
[4]
)) is the third of the
Pandavas
and, with
Krishna
, is considered the hero of
Hindu epic
Mahabharata
. At the heart of this great and massive epic is the philosophical conversation between Arjuna and Krishna, known as the
Bhagavad Gita
. Arjuna, considered the finest archer and a peerless warrior by many notable figures in the Mahabharata such as Bhishma, Drona, Krishna, Vidura, Sage Naradha and Dhiritharastra, played a key role in ensuring the defeat of the Kauravas in the
Kurukshetra War
. He is the only undefeated hero in the Mahabharata. Arjuna was an avatar of
Nara
, who along with the avatar of
Narayana
,
Krishna
, established
Dharma
in the Dvapara Yuga.
[5]
Community content is available under
CC-BY-SA
unless otherwise noted.