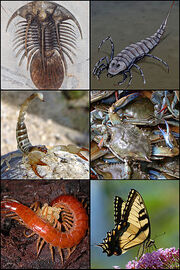 An arthropod is an invertebrate animal having an exoskeleton (external skeleton), a segmented body, and jointed appendages.
Arthropods are characterized by their jointed limbs and cuticles, which are mainly made of α-chitin; the cuticles of crustaceans are also biomineralized with calcium carbonate. The arthropod body plan consists of repeated segments, each with a pair of appendages. Their versatility has enabled them to become the most species-rich members of all ecological guilds in most environments. They range in size from microscopic plankton up to forms meters long. Arthropod hatchlings vary from miniature adults to grubs and caterpillars that lack jointed limbs and eventually undergo a total metamorphosis to produce the adult form. The level of maternal care for hatchlings varies from nonexistent to the prolonged care provided by scorpions.
Arthropods contribute to the human food supply both directly as food, and more importantly as pollinators of crops. Some specific species are known to spread severe disease to sentients, livestock, and crops.
Community content is available under
CC-BY-SA
unless otherwise noted.