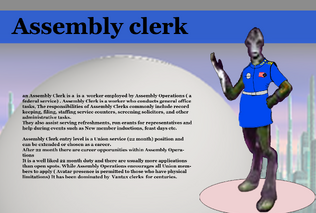 Assembly clerk‏‎ 
an Assembly Clerk is a  is a  worker employed by Assembly Operations ( a federal service) . An Assembly Clerk is a worker who conducts general office tasks.
The responsibilities of Assembly Clerks commonly include record keeping, filing, staffing service counters, screening solicitors, and other administrative tasks. 
They also assist serving refreshments, run erants for representatives and help during events such as New member inductions, feast days etc.
Assembly Clerk entry level is a Union service (22 month) position and can be extended or chosen as a career.
After 22 month there are career opporunities within Assembly Operations  
It is a well liked 22 month duty and there are usually more applications than open spots. While Assembly Operations encourages all Union members to apply ( Avatar presence is permitted to those who have physical limitations) It has been dominated by  Vantax clerks  for centuries.  
Community content is available under
CC-BY-SA
unless otherwise noted.