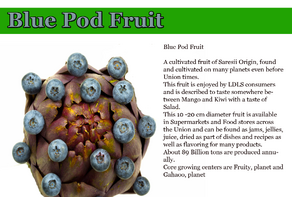 Blue Pod Fruit
A cultivated fruit of Saresii Origin, found and cultivated on many planets even before Union times.
This fruit is enjoyed by LDLS consumers and is described to taste somewhere between Mango and Kiwi with a taste of Salad.
This 10 -20 cm diameter fruit is available in Supermarkets and Food stores across the Union and can be found as jams, jellies, juice, dried as part of dishes and recipes as well as flavoring for many products.
About 89 Billion tons are produced annually.
Core growing centers are Fruity, planet and Gahaoo, planet 
Community content is available under
CC-BY-SA
unless otherwise noted.