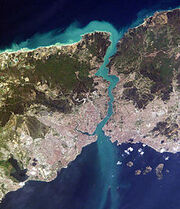 The Bosphorus or Bosporus is a strait that forms part of the boundary between Europe and Asia. Terra's narrowest strait used for international navigation, the Bosporus connects the BlackSea with the Sea of Marmara.
The strait is 31 km long, with a width of 3,329 m at the northern entrance and 2,826 m at the southern entrance. Its maximum width is 3,420 m and minimum width 700 m. The depth of the Bosporus varies from 13 to 110 m in midstream with an average of 65 m.
Most of the shores of the strait were heavily populated until nuked at the start of Terra's WWIII.
Although very changed because of WWIII, the Bosporus is still heavily traveled even today.
Community content is available under
CC-BY-SA
unless otherwise noted.