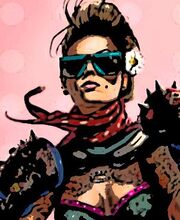 Bounty Hunters
Local Law enforcement organizations, individuals or groups may place a bounty or prize money on another individual, but must be filed with a Union Court Clerk with legal copies of all documents why that warrant or bounty was issued. The Bounty or the reward must be paid up front and in full to the Clerk. If the Union Court declares the Bounty / Warrant legal it is then posted on the Wanted Site of the Union Court Network. The warranted individual has the right to go to any Union Court and demand federal Court procedures. In addition to local warrants and bounties there are Federal Bounties and Warrants, also found on the same GalNet Site.
For those individuals that fail to respond to a Warrant a Bounty Hunter may try to apprehend the individual and bring him ,it or her to a Marshall Office, Federal Police Station or a Court and collect the bounty. Deadly Force can only be used in defense, Bounty Hunters are subject to all laws. Except when the Federal Warrant carries the words : "Dead or Alive".Then the so wanted individual may be killed on sight. (Only issued to Capital Criminals of the highest order and trailed in absence by the Assembly)
Bounty Hunting is a legal occupation and may be conducted by businesses and individuals(except where local ordinances prohibit it) but must be registered and licences. Any Federal Court or Police Station can issue such a license. Individual must not be a Felon or have had his license revoked. Citizenship required for License. License can be suspended or revoked. (This does not affect Citizen Arrests)
Community content is available under
CC-BY-SA
unless otherwise noted.