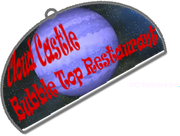 Bubble Top Restaurant
One of the most exclusive and famous restaurants of Cloud Castle , the biggest floating city of Corri Gas . It is located at the top of the protective dome that encloses and shields the city from the violent environment of the gas planet.
The restaurant itself is also enclosed in a small protective dome, competley transparent.
It allows a spectacular unobsructed view to the outside.
The restaurant caters primarily to carbon based NiOx breathers , but has a few speciality items for other life forms on the menu.
The food is prepared in a traditional kitchen from fresh (Stasis frozen ) ingredients (Only a few speciality items are printed  ) and has received the Golden Fork award nine times.
Prices are charged per head and dinner and not by individual menu choices. A wide selection of wines and spirits is also available.
Set price for a standard dinner is 500 Cr. Saturnian, Boothnars and similar species may ask for a Saturnian sized dinner but are charged an additional 300 Cr.
Besides the view it offers live music and traditional dancing for entertainment. (Dance instructions can be uploaded free of charge)
The restaurant is operated by CG-Eateries Inc . An independent company owning several restaurants on Corri Gas.   
Community content is available under
CC-BY-SA
unless otherwise noted.