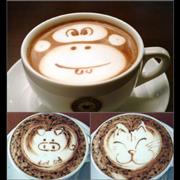 Caffè latte is a coffee-based drink made primarily from
espresso
and steamed milk. It consists of one-third espresso, two-thirds heated milk and about 1cm of foam. Depending on the skill of the
barista
, the foam can be poured in such a way to create a picture. Common pictures that appear in lattes are love hearts and ferns. Latte art is an interesting topic in itself.

Origins
In Italian latte means milk. What in English-speaking countries is now called a latte is shorthand for "caffelatte" or "caffellatte" ("caffè e latte"). The Italian form means "coffee and milk", similar to the French café au lait, the Spanish café con leche and the Portuguese café com leite. Other drinks commonly found in shops serving caffè lattes are cappuccinos and espressos.
Ordering a "latte" in Italy will get the customer a glass of hot or cold milk.

According to the Oxford English Dictionary the term caffè latte was first used in English in 1847 (as caffè latto), and in 1867 as caffè latte by William Dean Howells in his essay "Italian Journeys". However, in Kenneth Davids' Coffee: A Guide to Buying, Brewing and Enjoying it is said that "At least until recently, ordering a 'latte' in Italy got you a puzzled look and a hot glass of milk. The American-style caffè latte did not exist in Italian caffès, except perhaps in a few places dominated by American tourists... Obviously breakfast drinks of this kind have existed in Europe for generations, but the caffè version of this drink is an American invention..."
Community content is available under
CC-BY-SA
unless otherwise noted.