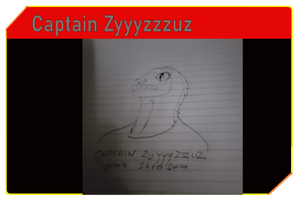 Captain Zyyyzzzuz
Captain of the Silver Swan. A Shiss.
The Reptilian had three black stripes on his silvery sleeves and wore a silver shield cap.
He took that cap off, put it under his left arm, and gave the guests present a stiff nod.
The Lizard looked big and dangerous despite the somewhat gaudy uniform. "Welcome Guests and Travelers aboard the Silver Swan, my Ship. I am Captain Zuyyyzzzuz, and yes, I am aware I am a Shiss.
"However, there is no cause for alarm. I am a Union Citizen, and so are several generations of my family. We are the good kind of Shiss ."
Community content is available under
CC-BY-SA
unless otherwise noted.