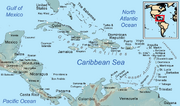 The Caribbean Sea is a sea of the Atlantic Ocean located in the tropics of Earth's Western hemisphere. It is bounded by the Yucatán Peninsula of Mexico and Central America to the west and southwest, to the north by the Greater Antilles starting with Cuba, to the east by the Lesser Antilles, and to the south by the north coast of South America.
The entire area of the Caribbean Sea, the numerous islands of the West Indies, and adjacent coasts, are collectively known as the Caribbean. The Caribbean Sea is one of the largest seas and has an area of about 2,754,000 km². The sea's deepest point is the Cayman Trough, between the Cayman Islands and Jamaica, at 7,686 m below sea level. The Caribbean coastline has many gulfs and bays.
Community content is available under
CC-BY-SA
unless otherwise noted.