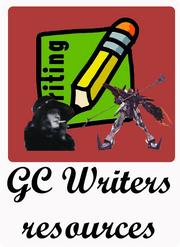 GC Writers Resource
This Wiki Section is specifically meant as a resource for Silvak and me ( unless someone else decides to write in the GC Universe[1]) it is a Resource Section. You know the little things that make a Universe what it is.
Alien names. maps, conditions, time lines ... that sort of things.
[1] Like any writer I am very protective about my writing and while I can't stop anyone from copying or creating GC Fiction. It won't be Canon, official or part of the GC Universe unless I endorse / authorize it. I want to make sure the character of my "baby" doesn't change.
But that does not mean you can't write or should not write for the GC Universe, be it stories or GalNet pages, but it it means it has to have the GC spirit/feel. Silvak who started to write GC Stories managed exactly that and thus is endorsed by me.
Trending pages
All items (296)
Community content is available under
CC-BY-SA
unless otherwise noted.