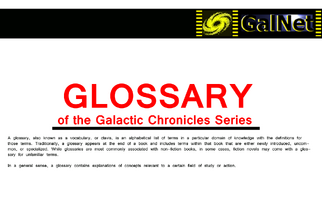 A glossary, also known as a vocabulary, or clavis, is an alphabetical list of terms in a particular domain of knowledge[1] with the definitions for those terms. Traditionally, a glossary appears at the end of a book and includes terms within that book that are either newly introduced, uncommon, or specialized. While glossaries are most commonly associated with non-fiction books, in some cases, fiction novels may come with a glossary for unfamiliar terms.
In a general sense, a glossary contains explanations of concepts relevant to a certain field of study or action.[1]
This Glossary is subdivided into the Books of the GC Series.
[1] In this case the Galactic Chronicles Univerese
Trending pages
All items (113)
Community content is available under
CC-BY-SA
unless otherwise noted.