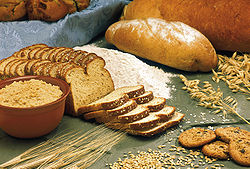 A cereal is a grass, a member of the monocot family Poaceae, cultivated for the edible components of its grain (botanically, a type of fruit called a caryopsis), composed of the endosperm, germ, and bran. Cereal grains are grown in greater quantities and provide more food energy Unionwide than any other type of crop; they are staple crops.
In their natural form (as in
whole grain
), they are a rich source of
vitamins
,
minerals
,
carbohydrates
,
fats
,
oils
, and
protein
. When refined by the removal of the bran and germ, the remaining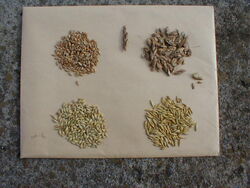 endosperm is mostly carbohydrate. On some developing planets, grain in the form of
rice
,
wheat
,
millet
, or
maize
constitutes a majority of daily sustenance. On developed planets, cereal consumption is moderate and varied but still substantial.
The word cereal derives from Ceres, the name of the Roman goddess of harvest and agriculture.
Community content is available under
CC-BY-SA
unless otherwise noted.