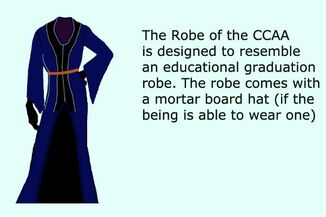 Chief Civil Affairs Administrator
ME & ED- Education CCAA
The CCAA
Chief Civil Affairs Administrator (Chair Person)
The CCAA is selected by the Office of Education, Medical and Health and from a pool of suitable candidates that apply for that post. The CCAA is in office for 10 years and can opt to be re-elected for one more term. The source for the candidate alternates each time: Education or Medicine. The selected person is then subject to a background check by Federal Police.
The CCAA is then presented to the Assembly and introduces him or herself and then was appointed by the President of the United Stars until this office has been abolished.  It is now done by the Speaker of the Assembly.
A CCAA must be at least a PhD in Education sciences or a M and demonstrate deep understanding and grasp of health and education issues. Nine out of ten CCAAs are members of the Hive of Minds
The CCAA is a voting member of the CONFERENCE and a member of the Council to the Assembly. It is the CCAA that addresses the Assembly and the Union public on issues of health, medical, social and educational topics. The CCAA is supported by the Office of the CCAA
The Office of the CCAA is open to the Public and located on Pluribus Unum. The SCC presents the Budget for the Health and Education Department of the United Stars to the Assembly at Allocation Day.
Primary tasks: Public health education, budget calculation, verification of the Ciriculum taught at Union Schools, the oversight of Union accredited institutions of higher learning, Oversight of social services and the Administration of Med Central.
The CCAA is the High Commander of the Hospital Fleet and the Mobile Social Service Fleet.