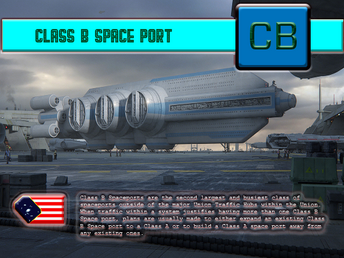 Class B Spaceports
are the second largest and busiest class of spaceports outside of the major Union Traffic Hubs within the
Union
.  When traffic within a system justifies having more than one Class B Space port, plans are usually made to either expand an existing Class B Space port to a Class A or to build a Class A space port away from any existing ones.
They typically include the following:
Daily direct Connections to Blue Moon or other Major Union Traffic Hubs.
Daily Space Bus Service.
Daily Clipper Service.
Daily Line Ship Service.
At least one Charter Service.
Fully Automated landing and lift off assistance systems.
Minor Repair Dock facilities. (there is usually an service center that takes care of the majority of repair tasks. It may be attached to the port or stand alone)
All Freight can be handled.
Ultras can be accommodated.
Repair facilities might be limited
Accommodations up to three star available (four star or higher accommodations are available at about a third of Class B ports.)
NucGas Fuel refinery and NucGas Fuel available.
MolGas Fuel refinery and MolGas Fuel available.
Limited supplies of Anti Matter Fuel may be available.

Class B spaceports are the smallest spaceports that can include at least one Trans Matter Tunnel Connection or Space Train Station.  Those are commonly termed Class B+.
Community content is available under
CC-BY-SA
unless otherwise noted.