Contusion (bruise):EditEdit
Hemorrhage into the dermis , subcutaneous tissues, deep soft tissues, and internal organs as a result of rupture of blood vessels following impact with a blunt object or surface (as shown below).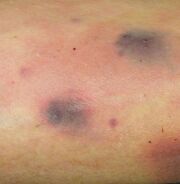 Two contusions on the skin of the chest.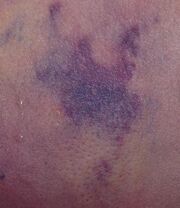 A contusion on the arm.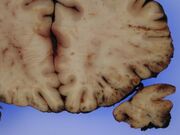 Cross section of brain with cerebral contusions on the inferior surface.
Community content is available under
CC-BY-SA
unless otherwise noted.