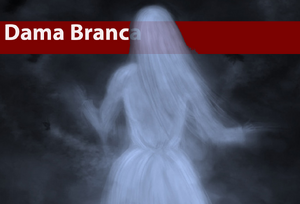 Called Dama Branca or Mulher de Branco in Portuguese , the Brazilian Lady in White is said to be the ghost of a young woman who died of childbirth or violent causes. According to legend, she appears as a pale woman in a long white dress or a sleeping gown, and although usually speechless, will occasionally recount her misfortunes. The origins of the myth are not clear, Luís da Câmara Cascudo's Dicionário do Folclore Brasileiro (Brazilian Folklore Dictionary) proposes that the ghost is related to the violent deaths of young white women who were murdered by their fathers or husbands in an "honor" killing. The most frequent reasons for these honor killings were adultery (actual or suspected), denial of sex, or abuse. Monteiro Lobato in his book Urupês describes a young woman starved to death by her husband because he suspected she was in love with a black slave and only gave her the stewed meat of his corpse for food.
Community content is available under
CC-BY-SA
unless otherwise noted.