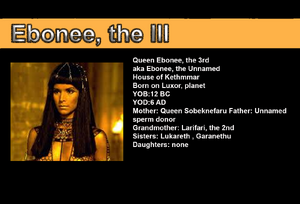 Queen Ebonee, the 3rd
aka Ebonee, the Unnamed
House of Kethmmar
Born on
Luxor, planet
YOB:
12 BC
YOD:
6 AD
Mother:
Queen Sobeknefaru
Father: Unnamed sperm donor
Grandmother:
Larifari, the 2nd
Sisters:
Lukareth
,
Garanethu
Daughters: none
After the unexplained death of her mother who left behind a written command to make her queen.
Ebonee has her two sisters executed claiming it was them who killed their mother with a magical divide .
Ebonee, the III dies in a very suspicious accident herself and only a year after ascending to the throne stumbling of the Falcon Throne and breaking her neck.
Eyewitnesses report her to be intoxicated
Ebonee, the IIIrd becomes known as the One Year Queen .
She has virtually no time to deal with the domestic situation of the revolting slaves and foreign politics dealing with Vrill and Ult .
The fact that messages take many weeks to travel, much time is lost simply in transfer of information.
She dies childless 
All four dynasties claim rights to the throne, as Ebonee did not have any verifiable off-spring.
Community content is available under
CC-BY-SA
unless otherwise noted.