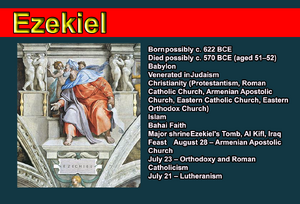 Ezekiel
Ezekiel (/ɪˈziːkiəl/; Hebrew: יְחֶזְקֵאל Yəḥezqē'l [jəħɛzˈqēl]) is the central protagonist of the Book of Ezekiel in the Hebrew Bible.
In Judaism , Christianity , and Islam , Ezekiel is acknowledged as a Hebrew prophet. In Judaism and Christianity, he is also viewed as the 6th-century BCE author of the Book of Ezekiel , which reveals prophecies regarding the destruction of Jerusalem , the restoration to the land of Israel, and what some call the Millennial Temple (or Third Temple) visions.
The name Ezekiel means 'God Strengthens'.
According to the verses in Ezekiel and its attendant commentaries, his vision consists of a chariot made of many heavenly beings driven by the "Likeness of a Man". The base structure of the chariot is composed of four beings. These beings are called the "living creatures" (Hebrew: חיות hayyot or khayyot)
See: Merkabah mysticism
See: Chariots if the Gods
See Ezekiel 1:4-28
See Ezekiel's Aliens
Community content is available under
CC-BY-SA
unless otherwise noted.