Soup like dish prepared on Nilfeheim.( Introduced to the Galactic consumer during the Union Week in 5019)
While almost every household on Nilfeheim has their own recepie. There is little argument that Midril's Fin Stew (Olafson Clan) is considered the best.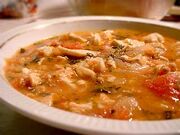 Here is the secret recipe:
6 Tbsp Fish oil
1 cup of chopped onions
2 large garlic cloves, chopped
2/3 cup fresh parsley, chopped
1 cup of Fanger bacon diced
6 cups of fresh thickweed spuds
2 tsp of tomato paste.
8 oz of shell fish juice
2/3 cup of Ale
1/2 cup of Mead
5 lb Tyranno Fish Filets cut into 2-inch pieces
Touch of dry oregano, Tabasco, thyme, pepper
Salt
1 Heat oil in heavy large pot or Dutch oven over medium-high heat. Add chopped onion and garlic, bacon and sauté 4 minutes. Add parsley and stir 2 minutes. Add thick weeds , tomato paste and cook 2 minutes longer.
2 Add shell fish juice, Ale and Mead, and fish and simmer until fish is cooked through, less than 10 minutes. Add seasoning. Salt to taste. Ladle into bowls and serve.
Community content is available under
CC-BY-SA
unless otherwise noted.