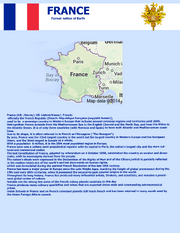 France (UK: /frɑːns/; US: Listeni/fræns/; French: officially the French Republic (French: République française [ʁepyblik fʁɑ̃sɛz]), used to be  a sovereign country in Western
Europe
that includes several overseas regions and territories until
2090
.
Metropolitan France extends from the Mediterranean Sea to the English Channel and the North Sea, and from the Rhine to the Atlantic Ocean. It is of only three countries (with Morocco and Spain) to have both Atlantic and Mediterranean coastlines. 
Due to its shape, it is often referred to in French as l'Hexagone ("The Hexagon").
By area, France was the 42nd largest country in the world but the largest country in Western Europe and the European Union, and the third-largest in Europe as a whole.
With a population of 67 million (67 795 000, January 1st 2018-wikipedia), it is the 20th most populated region in Europe. 
France once was a unitary semi-presidential republic with its capital in Paris, the nation's largest city and the main cultural and commercial center.
The last Constitution of France, adopted by referendum on 4 October 1958, established the country as secular and democratic, with its sovereignty derived from the people.
The nation's ideals were expressed in the Declaration of the Rights of Man and of the Citizen, (which is partially reflected in the modern Union) one of the world's earliest documents on human rights, which was formulated during the seminal French Revolution of the late 18th century.
France has been a major power in Europe since the Late Middle Ages, reaching the height of global prominence during the 19th and early 20th centuries, when it possessed the second-largest colonial empire in the world.
Throughout its long history, France has produced many influential artists, thinkers, and scientists, and remains a prominent global center of culture. 
Notable are the strong ties some of the Frecnh colony planets maintain to this day
France produces many culinary specialties and wines that are exported Union wide and commanding astrononomical prices.
Union Schools in France and on French colonized planets still teach french and has been retained in many words used by the Union Foreign Affairs council.
Community content is available under
CC-BY-SA
unless otherwise noted.